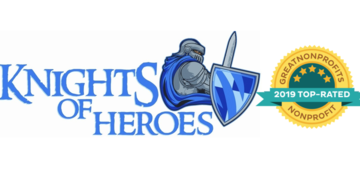 The Knights of Heroes Foundation was created in January of 2007 by retired Lieutenant Colonel Steve Harrold. He did so to commemorate a friend and former pilot, Major Troy Lee "Trojan" Gilbert, who was killed during combat operations while flying his F-16 to protect ground troops from being overrun by the enemy in the Al-Anbar Province, Iraq on November 27, 2006. At the time of his death, Major Gilbert was a husband and father of five children. 
Knights of Heroes hosts families with similar losses, allowing them to share experiences and build supportive relationships while increasing public awareness and ensuring that families with losses are not forgotten through the passage of time.  
KOH empowers children who have lost a parent in service to our nation by providing positive adult mentorship, character development, and lasting friendships, forged through outdoor adventure programs. These programs are provided at absolutely no cost to the families who attend.
"What we have done for ourselves alone dies with us; what we have done for others and the world remains and is immortal." – Albert Pike