Imagine your Heritage Discovered
100% Customer Satisfaction 100% of the Time
Your Coat of Arms Individually Custom Hand Embroidered
You Deserve the Very Best
Celebrate Your Heritage
Your Expectations Surpassed
Find Out About Your Family Crest and Coat of Arms

Expert Research
Our professional historians have over 30 years of experience. Each history is researched individually, with access to a collection of rare and exclusive books. Our historians use an extensive library, including the most highly referenced resources: Burkes General Armory, 1842, The Rietstap Armorial, 1861, and Rolland's Illustrations to the Armorial General, among countless others.

Custom Craftsmanship
These masterful works of art are meticulously custom embroidered by hand. With painstaking attention to detail, the artist captures the glory of your coat of arms using a complete color palette of threads, including gold bullion thread and French silk.

Satisfaction Guaranteed
We have earned a reputation for crafting the finest family heraldic sets and we are committed to delivering only the highest quality every time. We are passionate about our work and we love exceeding our customers' expectations. That is why we gladly offer a 100% satisfaction guarantee.
Coat of Arms Embroidery Sets
Heritage Shield and Sword Sets
Family Crest Jewelry Sets
Personalized Commemorative Sets
We understand the importance of family. We love this industry and we love exceeding our customers' expectations. After all, we know how great it feels when others go above and beyond for us. Allow us the opportunity to help you discover and display your heritage. We promise you'll love the results!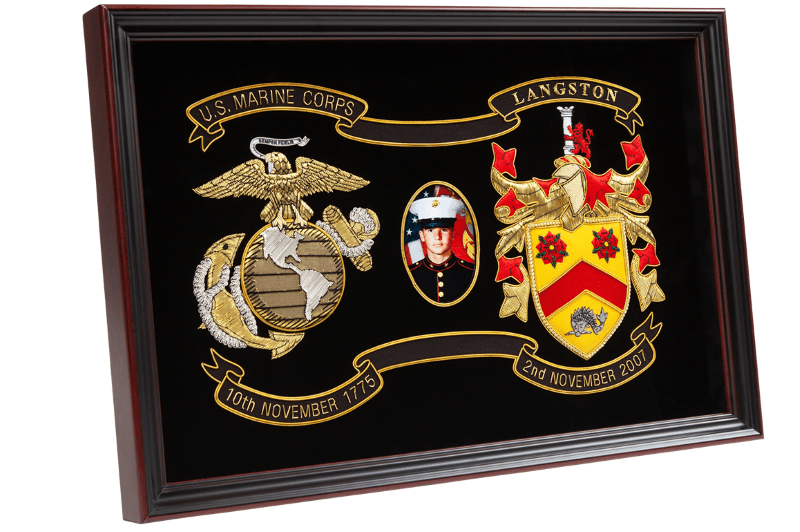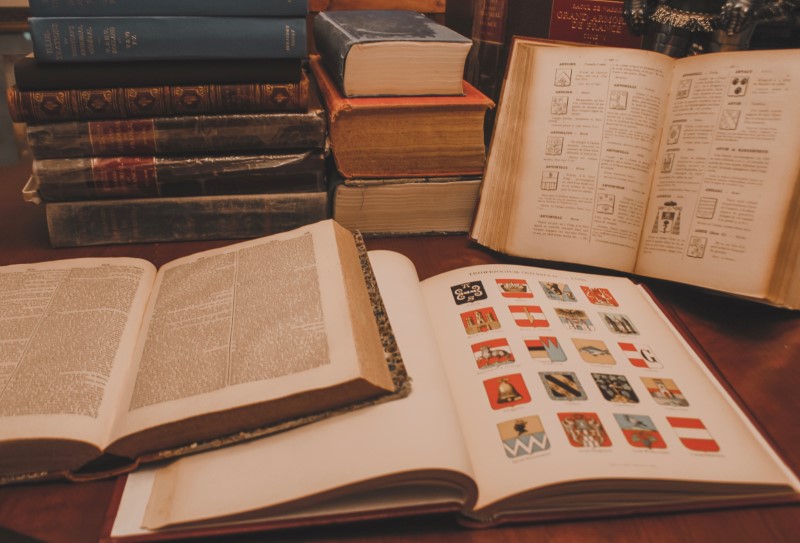 We use trusted and credible resources to provide our customers with authentic and thoroughly researched family surnames, coats of arms and family crests. We guarantee authentic historical accuracy not only through our resource library, but also the expert historians who conduct the research. All of our deliveries are backed by a seal of authenticity.
Our professional historians have over 30 years of experience, beginning in Europe at a center for records and information on onomastics, family crests, and heraldry. Our library also includes reference books relating to people in history, passenger lists of old sailing ships, immigrant lists, among many other reference sources, all of which are used to compile research and collect information about the people throughout history who have borne your name.
My experience during the purchase with Colm was exceptional, it was not a high pressure sale. He was professional and explained the entire process in detail and suggested products to purchase. The buying process went quickly and was quite pleased with it. The website was a good place for me to check on the status of my purchase which was easy to use and informative. Customer service was very helpful, I had to change the delivery address to Colorado Springs and the delivery date approached and the items were delivered as promised in excellent condition. I was very pleased with the quality of the product, especially of the detail in the coat of arms. It is proudly displayed in my dining room and my wife was very happy and pleased that I got it as a gift for her. I would recommend using My Lineage to anyone looking for a high quality detailed product.
I really enjoyed working with My Lineage. If we had a question, they were quick to answer it, and there weren't that many questions just follow ups on what my husband was told. It was one of the easiest companies to do business with.
Rebecca P., Camp Pendleton
The experience I had with My Lineage, Inc. was one I will tell all my friends and family about. They work very well with the Military for pricing and packages. I have to say also the sales reps are very knowledgeable in this company and know very much about the process and how it works. The Web site is very easy to navigate and also allows the buyer to view how the sword is made and the process of it being made.
The service I got with my Lineage was great if I had a question I was able to call and talk to real people no automated system. The status of my order was updated often online so I could see what step its in. The product was great the sword banner with my family crest information about my family history I learned so much about my family and was extremely happy with everything.
My experiences with tot company read great! My family and I enjoy it very much! Everything seemed accurate and very professional! I also really appreciated the emails keeping me informed and updated on the progress you were making. Thank you very much!
I want to extend a Big Thank You to you and your team for the tremendous job that you all did for my family lineage. I was blown away by the craftsmanship of the final product and truly appreciated the email updates during the course of the project to keep me informed throughout the entire process. Thanks again!
Matthew P., Schofield Barracks
As a costumer for My Lineage, I am very satisfied with my order, it is very beautiful, the Rivera family history is very awesome and it is what I have been looking for years, the sword design is very unique and perfect, something I never imagined to be and the crest, honestly, I have no words for it because of how amazing it looks! Again thank you guys so much for the order, you guys were very helpful and accurate, you answered my all of my questioned in no time and I hope to make business with you in the future.
The family history was very in-depth and a pure joy to read. The crests and hand stitched work is amazingly beautiful. Even the frames are amazing. I truly enjoy everything about it. Thank you so much for the work you have done. It was well worth the money! I will definitely be buying from my lineage again
My experience was very good. I got almost weekly updates to the progress of my product. I was very happy with the results
Michael P., Camp Pendleton
Overall, I was very satisfied with the whole experience. I've told many people about it as well. The payment system also worked well with my budget. It also arrived right on time for Christmas. Im glad I did this.
We are pleased with our lineage product; we were always kept informed via email on where it was at in the process and when it was being shipped. Thank you as we will cherish this in the years to come.
I love history and finding out my own was very easy and affordable with you guys, AWESOME. Keep up the good work.
This was a gift for my parents and they had no idea what I was up to. When they received it my mom started to cry and said what a beautiful gift and thank you so much. She has shown everyone and even told all of her friends about your company. We are very pleased.
Nicholas H., Naval Station Great Lakes, IL
I have bought from you twice and it couldnt be any better thank you.
Brandon W., Fort Stewart, GA
The items are great!
Brent D., Fort Gordon, GA
I cannot thank you guys enough this is something that will stay in our family forever.
Wesley S., Keesler AFB, MS
We are committed to surpassing our customers' expectations by creating long lasting relationships through attentive customer service. We deliver the finest custom crafted family coats of arms, family crests, heritage shields and swords to treasure for generations to come!
We offer preferred pricing to military service members, veterans, and their families.
Contact us for more information!